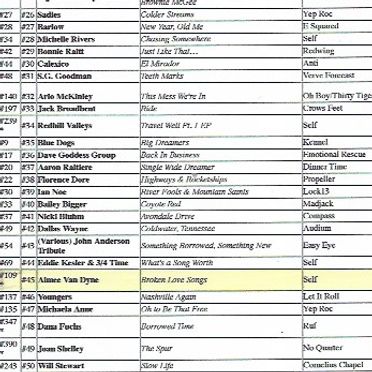 JULY NEWS!
I've got lots of exciting news to share!  My new album, 'Broken Love Songs,' is being played at radio stations all over the country! The album charted #45 on the Alt-Country Chart (July) in it's very first week!  (http://www.altcountrychart.com)
John Platt, beloved DJ from WFUV (NY), has invited me and my band to perform at his "On Your Radar" showcase in New York City on Tuesday, October 11th at Rockwood Music Hall. New York friends, please mark your calendars for this very important event!  
Here in MA, I have another very special full-band gig coming up.  I am thrilled to be performing at The Egremont Barn on Wednesday, July 27th at 7:30 PM.  If you live near the Berkshires, please consider coming to this event--it's the last time I will be playing with my band this summer.
Thanks again for your continued support! Here's the chart!!!
A Majestic Return For Harmony Rock Songwriter Aimee Van Dyne
New York Music Daily
Back in the mid-zeros, Aimee Van Dyne led the best harmony-rock band in New York. They were on the quiet, more immersive side, with a lushly distinctive, disarmingly sophisticated vocal counterpoint that was neither baroque nor high lonesome. Van Dyne was trained as an architect, which no doubt informs the durable beauty and often intricate craftsmanship of her songs. Her sound, which remains consistent to this day, is a blend of artsy pop, Americana, and the more delicate acoustic styles that trace back to her formative years in the 90s, with a biting, knowing lyricism. Van Dyne has returned with a brand new album, Broken Love Songs - streaming at her music page -which includes both new material as well as concert favorites from that era.
Unsurprisingly, the most stunning aspect of the record is Van Dyne's vocals. She was a strong singer in 2005, and since then her range has expanded even further, with a warmly mapled, crystalline delivery possibly inspired by her new digs in the Berkshire mountains. On the new album she sings all the parts that Kathleen Hunt and Nina Soka would have filled out during the band's time playing around what was then a fertile crucible for music on the Lower East Side.
The loosely connecting thread between the songs is going into the wilderness and emerging intact. The opening track, 'Lonely Me' is an old live standard from the New York days, reinvented with a brisk backbeat from bassist Paul Kochanski and drummer JJ O'Connell, while Jon Graboff's pedal steel floats solemnly overhead. Jim Henry, who helmed the instrumental side of the project, adds layers of acoustic and electric guitars: it is astonishing that an album recorded remotely during the lockdown could sound so cohesive.
Henry's mandolin flickers amid Van Dyne's anthemic vocal orchestration in the album's title track, the interweave between the stringed instruments mirroring her vocal dexterity. Van Dyne paints a guardedly victorious lakeside tableau in 'I'm One,' Ben Kohn's spare piano lowlighting a tale of staring down a "tangled web of half-truths."
"On the other side of all that sorrow brings, find your wings," Van Dyne instructs in 'Hold On,' a luscious blend of lushness and twang. There's a soulful roots reggae tune hidden inside 'Lonely Boy,' Kohn adding romping piano and slinky organ: it's one of the album's catchiest tunes. Greg Snedeker's cello soars over the bed of guitars in 'Why Should I Care,' a rugged individualist's anthem from Van Dyne's earlier days: the harmonies are more tightly constructed this time around. 'The Story of Me' is a disarmingly devastating tale of walking wounded, the self-deception and emotional workarounds that those who've been traumatized can fall back on (the song is way more poetic than that mundane description would suggest). Craig Akin's somber bowed bass and Kohn's tersely Romantic piano anchor 'Unbroken Love,' a resolute look at finding inner strength under duress. The new version of 'Owning Up' - the title track to Van Dyne's debut CD - has a welcome symphonic sweep: there are flying buttresses on this newly sturdy structure.
The edgiest song on the album is 'Not Even You,' a defiant kiss-off number, Henry's incisive fingerpicking underneath Graboff's ominous washes of steel. Van Dyne winds up the record with the fondly soaring 'Together at Last,' assembled around Henry's mandolin and Jon Carroll's accordion. Needless to say, it's inspiring to see Van Dyne reasserting the understated power she first made a name for herself with in this city.
Broken Love Songs
ON SALE NOW!
After a 20-year hiatus, Aimee returns with an 11-song CD about finding light in broken places
"Broken Love Songs-The New CD by Aimee Van Dyne
Check out this video for Aimee's kickstarter Campaign to learn about the creative process behind "Broken Love Songs"
WBCR interview
A big THANK YOU to Graham Dean at WBCR RADIO, for interviewing me on his "Common Sense Songs" radio program. The interview will be airing THIS WEDNESDAY from 8-10 and THIS FRIDAY from 3-5 PM. You can stream the show at http://berkshireradio.org.
"What a Wonderful World"-The Chicks with Dip
Aimee performing "It's a Wonderful World" with The Chicks With Dip